Follow my blog with Bloglovin
These fresh lemon cupcakes are always very popular in our house. Make sure you use really plump juicy lemons for maximum zing!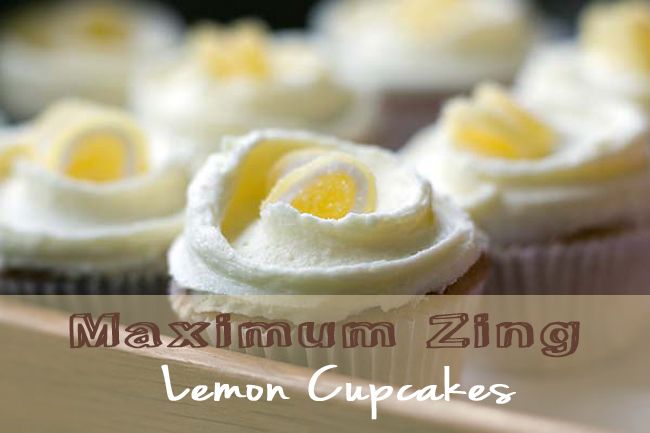 Makes 12 regular cupcakes
110g unsalted butter, at room temperature
225g caster sugar, preferably golden
2 large eggs, free range or organic
150g self raising flour, sifted
125g plain flour, sifted
90ml semi-skimmed milk, at room temperature
2 tablespoons freshly squeezed lemon juice
1 tablespoon sour cream
Grated zest of 1 lemon (you need 1 teaspoon)
Preheat the oven to 160
°C
(fan)/180
°
C/350
°
F/gas mark 4 and line a 12-hole muffin tray with the appropriate
size cupcake cases.
In a large mixing bowl cream the butter and sugar until the mixture is pale and smooth, which should take 3-5 minutes using an electric mixer. Add the eggs, one at a time, mixing for a few minutes after each addition.
Combine the two flours in a separate bowl and combine the milk, lemon juice and sour cream in a jug. Add one-third of the flours to the creamed mixture and beat well. Pour in one-third of the milk and beat again. Repeat these steps until all the flour and milk have been added, incorporating the lemon zest with the last third of flour. Don't worry if the mixture starts to curdle: simply add another spoonful of plain flour and beat well.
Carefully spoon the mixture into the cupcake cases, filling them to about two thirds full. Bake in the oven for about 25 minutes until slightly raised and golden brown. To check they are cooked, insert a skewer in the centre of one of the cakes - it should come out clean.
Remove from the oven and leave the cakes in their tins for about 10 minutes before carefully placing on a wire rack to cool. Once they are completely cool, you can ice the cupcakes with lemon buttercream and decorate with a sugared lemon slice )you'll find pots of these in the baking aisle of most supermarkets) or a little finely grated lemon zest.