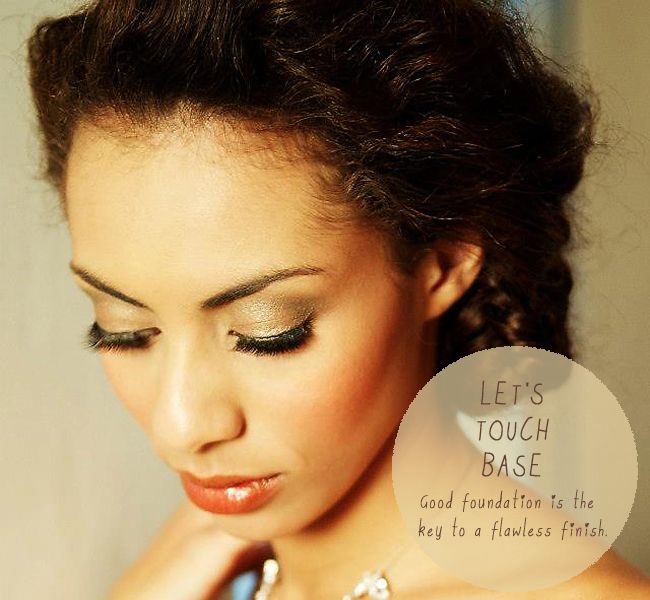 If there's one beauty product that can transform your looks. it's foundation. No other make-up will look good on your face unless you get the base right.
Not only can the best formulas disguise every flaw, they also work in harmony with our skin, evening out our skin tone and reflecting light to make us look younger and brighter.
Here in Part 1 of "Let's Touch Base" I share some expert tips on applying and choosing the right foundation.

LIQUID Suitable for all skin types.
CREAM Good for medium to full coverage.
MOUSSE Light in texture.
POWDER Can be used dry for a lighter feel, or wet for extra coverage.
STICK Like a concealer stick, but softer texture. Quick and easy to use.
MINERAL POWDER Loose powder applied with a big brush. Great for speedy application.

LIGHT-DUFFUSING

Contains pigments that reflect light. Great for older skins as it gives a youthful glow

OIL-FREE

A water-based product with little or no moisturising elements. Perfect for oily skin.

MATTE

Flat and powdery texture that combats shine. Good for oily skin.

SEMI-MATTE

A good all-rounder. Softer coverage that hides imperfections.

PORE-MINIMISING

A liquid format that controls oil production. Best for oily skin.

TINTED MOISTURISER

This gives a hint of colour

and evens out skin tone.

ALL-IN-ONE

Sometimes called wet-to-dry or cream-to-powder, this is a foundation and powder in one that goes on wet and dries like a powder. A brilliant time-saving product, and mess free.

TWO-IN-ONE

Comes in a compact. Use dry as a finishing powder, or wet the sponge for fuller coverage.

DEWY

This has a moist finish but wont mask imperfections. Great for younger, blemish free skin.
You know your own skin type better than anyone. If your skin is dry, look for a foundation with added moisturiser and avoid powder formats. For oily skin, pick out ones that are mattifying.
If you need help opt for a department store with lots of cosmetics brands as the assistants will be happy to guide you.
Once you have determined the format for you, think about the level of coverage required. A light foundation or tinted moisturiser works best on young skin, or skin with few blemishes. Medium cover is a great all-rounder, and full cover is best for women with a skin problem such as rosacea or scarring that needs camouflaging.