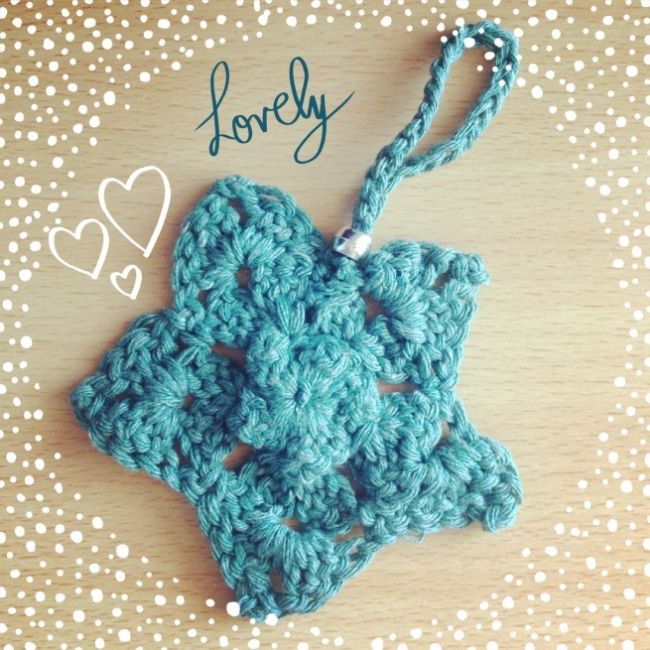 Puff Centred Crochet Star
This year as you know I have become completely hooked on crochet. So much so that when I found this pattern on
Ravelry
I just had to give it a go. Okay so Christmas is a little way off yet, but wouldn't this look gorgeous as bunting? Not only does it look good as a hanging ornament, but a bunch of them joined together with a chain stitch and then wrapped around the christmas tree, would look wonderful. I simply had to share with you all.
Materials
DK Yarn in as many colours as you decide to use. We used a recycled denim cotton.
Please note: These instructions use BRITISH ENGLISH crochet terminology.
Abbreviations
Notes
Puff Stitch: Make 4tr into the same stitch; take the hook out of the current tr and pull that loop through the top of the first tr of the group.

6tr group: 3tr, 2ch, 3tr
Picot: 2ch, dc back into the st where the 2ch started.
Instructions
Pattern by Penny Peberdy,
Make a magic ring. Here is a great tutorial by planetjune.
Start with 2ch for height. (the 2ch does not count as a stitch). Work 5 puff sts into the ring, working 2ch between puff sts. Slip stitch to first puff st to join.

Work a 6tr group (3tr, 2ch, 3tr) into the top of each puff st and 1ch between the groups. Slip stitch to join.

Slip stitch to the chain space at the centre of the first 6tr group, the work *3tr, picot, 3tr into the ch space. 1ch, dc into the ch between groups on previous round, 1ch. Repeat from * to end, slip stitch to join and end off the yarn.
We tried two different ways to finish the star. One was by attaching a piece of ribbon. Personally I think that it could have done with a smaller piece of ribbon and maybe a wooden button. However, we are far too eager at Reet Neat headquarters and used what we had to hand. Later on (first picture) the ribbon was removed and a chain was formed using the same wool, with a bead detail.