My make-up brushes only last a few months.
This could have something to do with either washing them incorrectly or not at all. I used to wash my brushes in luke warm water with a dash of baby shampoo and tea tree oil. The shampoo dissolves the grease and the tea tree oil has antibacterial properties. I didn't think I could justify the cost of the higher brand cleansers. But that Ladies and Gentleman was before I tried anything other than shampoo. I have tried M.A.C 's Brush Cleanser and Bobbi Browns, I have no preference as both just make you brushes feel like new. Such a small amount is needed that the price is insignificant to the price of replacing your brushes. I also use bare minerals "quick change" brush cleaner, which is an excellent product between shampoos. Just spray this product on a tissue or cotton pad and swipe the brush back and forth until no trace of colour is left on the brush.
The only concealer that will cover my bags is so thick it looks cakey.
Trying to hide dark circles by piling on the heavy concealer is not the way to go. You need a light liquid formula as they absorb more easily under the eyes and cover without caking. Go for an opaque fluid with a peach tone to counteract the blueish/grey tones. Still seeing shadows try a light dusting of fine, light reflecting powder over the concealer to brighten.
Just hours after applying mascara, I find traces of it on my lids and under my eyes.
That's because mascara can break down when it comes into contact with oils on your skin, leaving tell tale spots. If you're not planning on wearing eyeshadow then a primer should do the trick. Before you coat the lashes create a matte canvas on lids with a primer, like this light NARS formula, before topping it with a light translucent powder. Look for ones with silica which absorb oil, like MAC Cosmetics Prep + Prime Transparent finishing powder.
Even though I wash my face before bedtime, I still wake up with residue.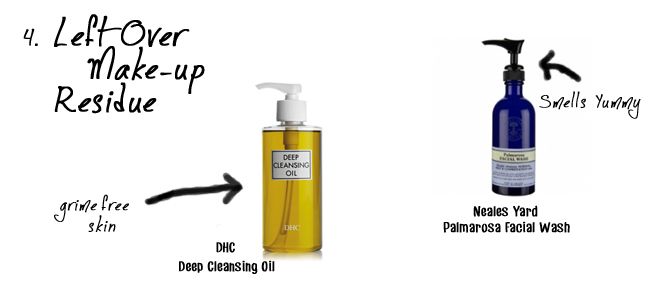 Your cleanser just isn't doing it for you. Switch to an oil based formula, like DHC's Deep Cleansing oil, which breaks up oil better than regular soap. Or use regular cleanser as it should be used, by smothering your face and neck in cleanser and leave for a about 20 seconds to melt away make-up and grime. Gently wipe away cleanser using tissue or cotton pads. Then tone to make sure you remove any residue left.
I always smudge my polish before it dries.
I always paint my nails when I'm in a hurry, I can never do nail art due to being too impatient to wait for the first coat to dry. My absolutely favourite product for my impatience has to be Nails Inc Kensington Caviar. The base coat is like most others, but the top coat is the best I've tried. It dries in 45 seconds. I could do with the Top coat being sold as a duo.
Nails Inc LONDON Kensington Caviar Top & Base Coat Duo
(http://www.nailsinc.com)